UK nuclear arms backup plan urgent ahead of Scottish vote – lawmakers
One of the pilots indicated in a report to the UKs Civil Aviation Authority (CAA) that the pair nodded off after both had only five hours sleep in the previous two nights. Details of last months incident, on August 13, come at a time when UK pilots organisation Balpa is unhappy at proposed European changes to flight-time regulations. A CAA spokesman said: This was a serious incident but an isolated one. I think lessons will be learnt from this. We are circulating this report within the industry. We dont know why the pilots had had so little sleep before this flight. They were taking it in turn to have rest periods, with the one always checking the autopilot and it looks as if both fell asleep at the same time. Details of the incident, logged by the CAA as a mandatory occurrence report, were obtained by a news agency which had asked for incidents of pilot fatigue. The CAA did not say which airline was involved nor where the aircraft, an Airbus A330, was travelling. The report was headed: Flight crew suffering from symptoms of severe fatigue. It went on: Reporter (almost certainly the captain) suggests both members of flight crew had only five hours sleep in two nights due to longer duty periods with insufficient opportunity to sleep. Both crew rested for 20-minute rotations and fell asleep. Balpa said: In the UK we have a strict set of flight safety rules which govern how long and how often a pilot can fly before their performance is impaired. The EU is proposing more permissive flight safety rules which would allow pilots to be flying aircraft whilst dangerously fatigued. These rules were not developed using scientific data and could have a grave impact on the safety of UK aviation. Balpa said the EU proposals were flawed in many areas, with pilots being legally allowed to land an aircraft having been awake for 22 hours, pilots operating longer-haul flights (such as west coast US) with only two crew rather than the current three, and pilots possibly being forced to work up to seven early starts in a row. The CAA said today: We understand that Balpa are not happy with the proposals but we think overall it is a good package and not much different to what we have now. Balpa said last months incident comes as no surprise, adding that it had repeatedly warned the CAA of the risk of both pilots falling asleep, including in a letter to each member of the CAA board last year. Balpa general secretary Jim McAuslan said: British pilots want to make every flight a safe flight and tiredness is the biggest challenge they face. As the regulator responsible for UK flight safety, the CAA has been far too complacent about the levels of tiredness among British pilots and failing to acknowledge the scale of the under-reported problem.
UK renewables generation increases by 56% since 2012
Senior Labour MP Margaret Hodge, chairwoman of the House of Commons Public Accounts Committee (PAC), said the awarding of all 26 rural broadband contracts to British Telecom (BT) had left the company in a "quasi-monopolistic position". The PAC report said the Department for Culture, Media and Sport (DCMS) mismanaged the project, and BT was exploiting its dominant position by restricting access to cost and roll-out information. "Too many people will not be able to access super-fast broadband because BT will have failed to deliver it to them," Hodge told BBC Radio 4. "The taxpayer has been ripped off with ??1.2 billion going to the shareholders of BT." The tender process which began in 2011 drew criticism when just two service providers – BT and Fujitsu – were named as approved bidders, with Fujitsu eventually dropping out. Hodge claimed BT was using its dominant position to keep details of local projects confidential, "preventing other suppliers from developing schemes aimed at reaching the remaining 10 percent of premises" still without broadband. The report said that the remaining 18 contracts, due to be granted by 2017, are also likely to go to BT. Hodge said local authorities are contributing over ??230 million more to the programme than forecast in the department's business case, while BT is committing over ??200 million less. She said this, combined with the DCMS admitting the programme would be delivered two years later than planned, meant consumers were "getting a raw deal despite the generous public subsidy". The report said the department accepted contract terms that were "overly generous" to BT but the government argued the tendering process had been fair, while a BT spokeswoman said it was "disturbed" by claims in the report which were "wrong". She said the company had been "transparent from the start and willing to invest when others have not. "It is therefore mystifying that we are being criticised for accepting onerous terms in exchange for public subsidy – terms which drove others away.
UK taxpayers 'ripped off' by rural broadband roll-out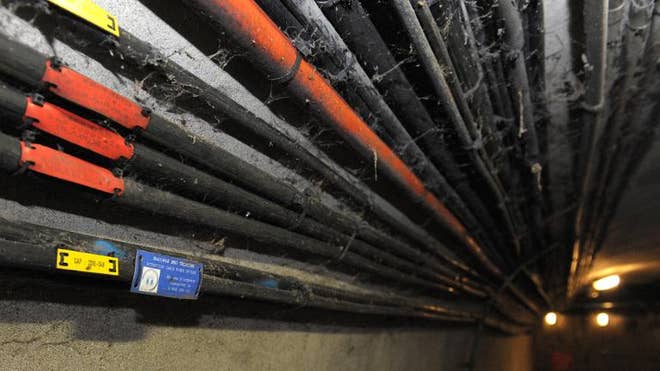 Scottish separatists have consistently lagged in opinion polls which show Scots have decided against independence by a ratio of 3 to 2. But a large number of voters – up to 28 percent by one poll – are undecided. With less than a year to go to the September 18, 2014, referendum, the issue of what to do with Britain's nuclear deterrent is urgent, lawmakers said. "The possibility of Scottish independence represents a serious threat to the future operational viability of the UK's nuclear deterrent," said one of the conclusions of the year-long Defence Committee investigation into the impact of independence. "The UK Government must now give urgent consideration to contingency options in the event of a 'Yes' vote," it said. Britain is one of only five officially recognised nuclear-armed countries. Four submarines equipped to carry nuclear missiles – the Vanguard, Victorious, Vigilant and Vengeance – are based in deep-water lochs along the west coast of Scotland, and concrete missile storage bunkers are built into the Scottish hillside. At least one of the four is always at sea. The LibDems, junior partner in the Conservative-led coalition government, want to reduce the number of submarines when the current class is decommissioned, but Prime Minister David Cameron has called any such plan "naive or reckless". If Scotland votes to break away, Britain would face a huge, expensive and time-consuming task to relocate the system. The Ministry of Defence confirmed on Thursday it currently has no contingency plan. "No contingency plans are being made to move Trident out of Scotland," a Ministry of Defence spokesman told Reuters. "The scale and cost of any potential relocation away from Faslane would be enormous. We are confident that the Scottish people will vote to remain a part of the United Kingdom." Defence Minister Philip Hammond said during an evidence session for the report that it was "unhelpful" to speculate over any possible relocation sites, but that ultimately he was confident it could be done. "I am confident that we would be able to solve this problem, but it would cost a significant amount of money," Hammond told the committee in July.
DECC attributes this decline in to a fall in petroleum production as a result of the general decline and maintenance work on a number of fields. The fall in production led to a rise in net import of energy by 51%. Between 2003 and 2012 there was a 290% increase in generation from renewables in the UK, but the fastest rates of growth were recorded in Northern Ireland which increased generation by 1,029% almost three times more than any other part of the UK. Maf Smith, deputy chief executive of industry association RenewableUK said in a statement: This confirms what we have been seeing for some time, which is renewables steadily becoming more important in meeting our electricity needs, and wind being responsible for the lions share of the progress. That this period coincided with one of the coldest springs on record means that wind was providing this power at a crucial time. The fact that we have seen the record for renewables generation broken twice in the space of a few months shows for itself the progress being made in the race to decarbonise our economy and secure our future electricity supply. Of electricity generated in the second quarter of 2013, gas accounted for 28.5% due to high gas prices, while coal accounted for 35%. Trends in renewable energy generation from 2003-2012 (Graph: DECC) Nuclear generation accounted for 18.5% of total electricity generated in the second quarter of 2013, a decrease from the 21.5% share in the second quarter of 2012. With the fall in nuclear power, the Coalition government insists the country needs new power stations to replace ageing nuclear installations. The countryseight large nuclear stations are scheduled to close over the next 10 years, but the government says the UK needs urgently to construct new ones to keep the nations lights on. Until earlier this year, according to the government, two of them would be closing in 2016: Hinkley Point B in Somerset, England, and Hunterston B in north Ayrshire, Scotland, both of which came into operation in 1976. But confusion has arisen over the likelihood of closure of these plants becauseEDF successfully applied for a seven-year extension to the lives of the two stations.